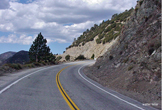 ANGELES CREST HIGHWAY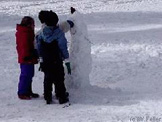 WRIGHTWOOD SNOW PLAY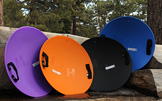 MH SLEDS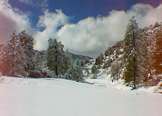 OUTDOOR REPORT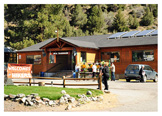 MOUNTAIN HARDWARE


Hike Wrightwood
Dawson Saddle to Throop Peak
Throop Peak - El. 9134
4 miles round trip.
Elevation gain: 1,200 feet
Difficulty: Moderate
Topo Map: Crystal Lake

Many peaks of the San Gabriel Mountains offer superb views, and this is one of the best. This trail, narrow in places but not dangerous, climbs steadily at first, then levels out through beautiful park-like flat areas, with a steep climb the last one-fourth mile or so to the top. The whole route is through an open forest of Jeffrey, Sugar, and the high elevation Lodgepole Pine with some White Fir. There are no large trees on the summit to hamper your view, only low-growing Ceanothus, Manzanita and Chinquapin the last couple of hundred feet of ascent.

Follow the Angeles Crest Highway 45 miles from La Canada (5 1/2 miles past Islip Saddle) to Dawson Saddle, 7901 ft. elevation, and the highest point of the Angeles Crest Highway. There is a brown highway maintenance shed on the north side of the road at Dawson Saddle. A National Forest Adventure Pass is required for your vehicle while parked in this area. Find the trail leading up from the south side of the highway about 100 yards east of the maintenance shed. 1 3/4 miles brings you to the Pacific Crest Trail, turn right and go west about 0.2 miles to a steep unmaintained hiker's path the last 0.1 mile to the top.

If you care to go further to the south, the trail will take you past Mt. Hawkins to Windy Gap and Little Jimmy Campground, three miles.

Turning left at the junction with the Pacific Crest Trail will take you past Mt. Burnham to Mt. Baden-Powell, about 2 3/4 miles.

Throop Peak (pronounced "troop") was named for Amos G. Throop, founder of CalTech, formerly called Throop College.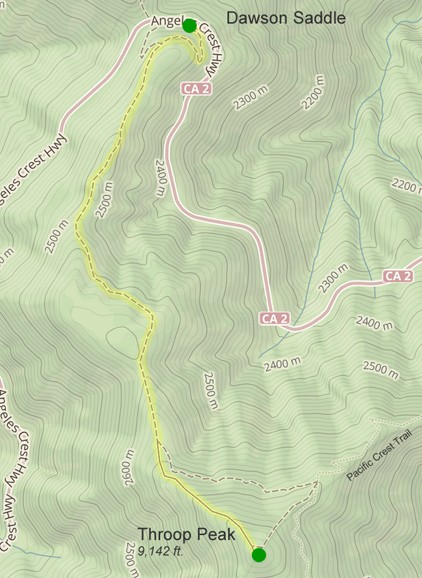 Angeles Crest Highway

- Dawson Saddle